MEET OUR PACK
_______________
NAME: Naudia
BORN: Unknown
Naudia came to us from Kansas in 2017 after she was found extremely emaciated running at large. The shelter believed she was a wolf dog and reached out looking for placement. We believe she was born in 2014. She is very submissive and sweet, and very social. She adores belly rubs and will block you drop and roll over for tummy scratches. After being starved, she has never recovered mentally and is a ferocious eater. Her spay caused her to gain excessive weight, so she is on the chubby side. As long as we are around, she will never hunger again. She adores her man Hachi who is always very gentle with her.
________________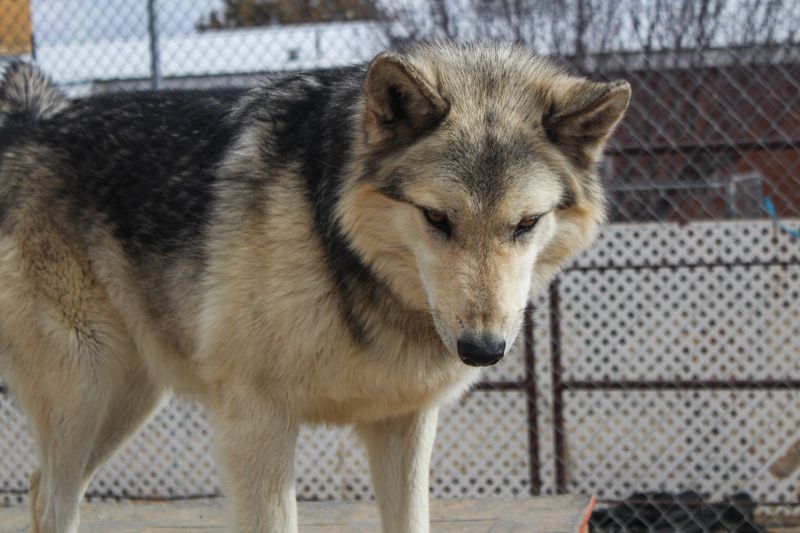 NAME: Kaya
BORN: 2015
Kaya was born in 2015 and was surrendered to a Denver area shelter in November. She was adopted out to a lady and returned 2 days later. Kaya was extremely anxious, high energy and destructive in her household. She had chewed through a kennel and destroyed the couch. The shelter suspected after this that she may be a low content hybrid and reached out looking for someone who specializes with the breed. We took Kaya in and she was extremely high energy girl. She loves to play and is super sweet, however she does not warm up to anyone else. She continues to be very shy with other people and prefers to hide when others approach. She is with her companion Sundance who has the high energy it takes to keep up with her. 
________________
NAME: Little Bear
BORN: 2020
Little Bear came to us in late 2020, as a 6-month-old pup who had been surrendered to a shelter. He is an incredibly unique color and has the striking green eyes to go along with it. He is a sweet playful boy, and his energy level matches Ravens. He had DNA done while at the shelter and it came back at 62.5%. We really have limited information on Little Bears first 5 months but being surrendered to a shelter in an illegal area can cost lives with rescue. We are awfully glad we were able to bring this sweet guy into our pack before his life was snuffed out.
_______________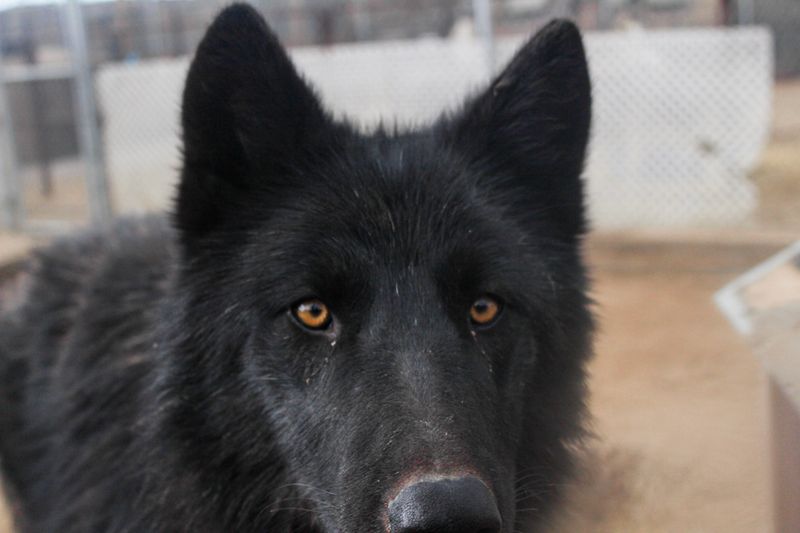 NAME: RAVEN
BORN: 2020
Raven was born in 2020 and relinquished by a breeder who was calling it quits. She came to us very young. We have babied her and tried to socialize her. She is amazingly comfortable in her surroundings now, and with us as well, however anything new is completely terrifying and she shuts down. We are not sure of her content but suspect she is a mid-high content. She has grown quickly and is very curious and playful. She is very submissive with the older pack members and is matched up with another young pup who just loves her. Little Bear was just the right match for her.

_______________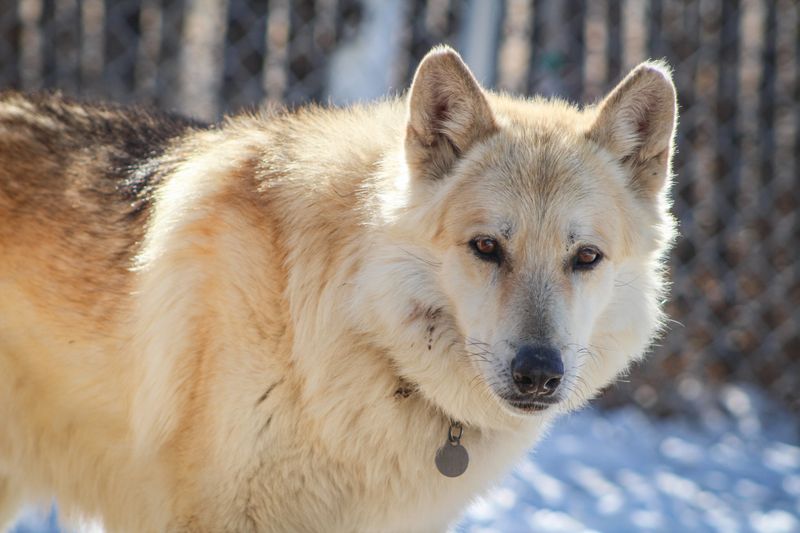 NAME: Jax
BORN: 2012
Jax was born in January 2012 and has been in sanctuary with us since 2020. This poor sweet boy has had an extremely hard life. After living 6-7 years on a short chain, Jax was rehomed to a lady who claimed to have wolf dog experience. He was confiscated back after it was determined his new owner was drugging him. Another adopter stepped up and between the 2, the bond was immediate and deep. It appeared as though Jax would finally have the life he deserved. The rug was pulled out from under him when his wonderful new owner passed suddenly from an unexpected heart attack. Jax once again needed immediate rescue and we were honored to step up and offer him help. For all that this poor beautiful creature has been made to endure, with just a short amount of time, he has rebounded! He comes up for love and scratches. He is still shy but warms up so quick. We are blessed and extremely honored to have him as a pack member.
_______________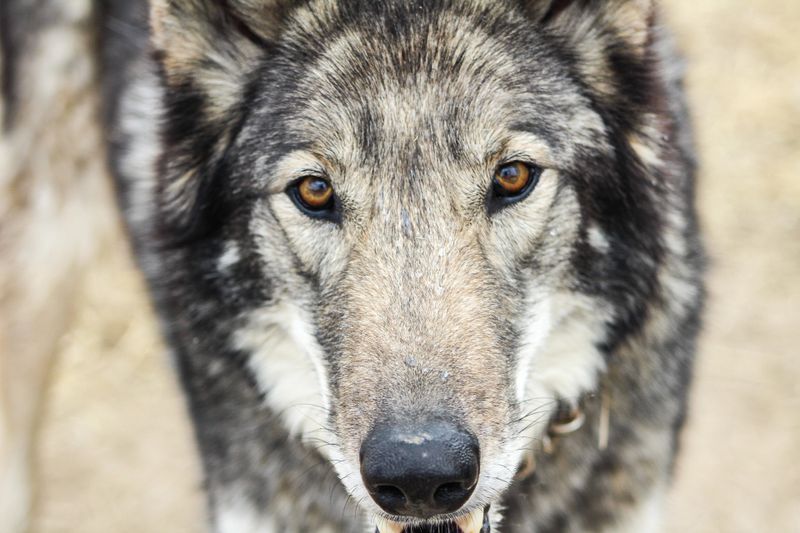 NAME: Freyja
BORN: 2013
Freyja was born in February 2013 and lived with her first family in Arizona. As Freyja grew, she began to exhibit high prey drive and went after her small pack members, so she was rehomed. Sadly, she was rehomed 3 additional times after this, and a final determination was made that while her DNA was just under 50%, she was not home/family material. At one point she escaped her last owner, and it took 3 weeks to trap her. Freyja is inquisitive, and playful, which can be very rough play and she is awfully slow to trust after being rehomed so many times. She is always suspicious and standoffish if anything is remotely different in routine. When we fail these animals there is emotional and mental damage that can last a lifetime. Freyja has settled in quite well to sanctuary life and is very content with her companion Gandolph.
_______________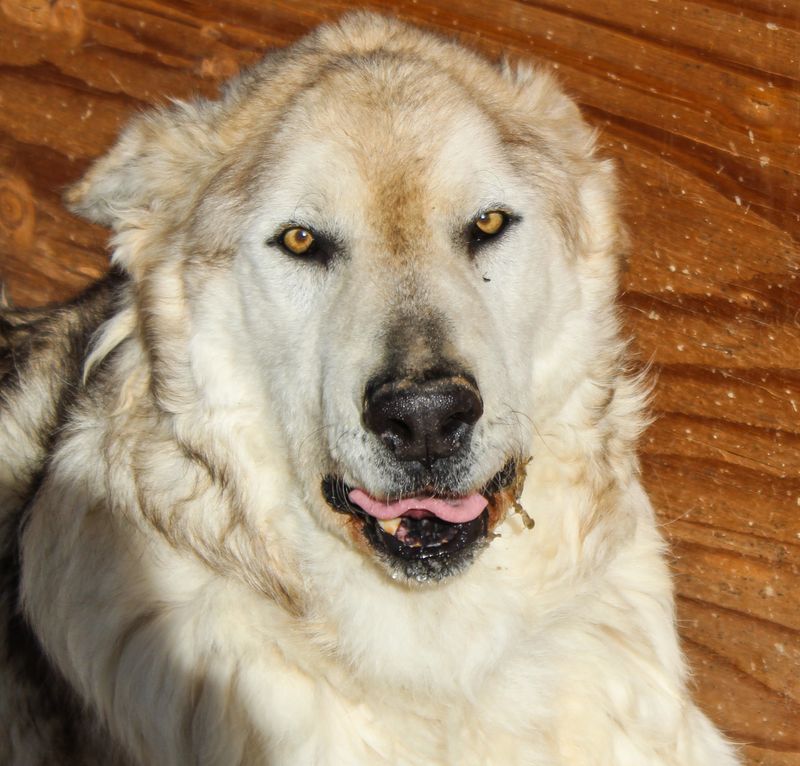 NAME: Hachi
BORN: Unknown
Hachi is one huge, intimidating boy. He came into rescue in 2017 from a California shelter. His owner came in identified him and left him there. Hachi is a sweet gentle beast, however he is very picky about who he lives. He can act aggressive if he is not comfortable with you, although we believe most is a bluff. This ended up causing them to place hi in a back room and reach out for rescue or sanctuary to take him. We are curious about the DNA on this boy, but we have not had it done yet. We love our big, beautiful boy and his giant feet.
_______________ 
NAME: Tsume
NICKNAME: Sue
BORN: 2015
Tsume was born in 2015. When living conditions changed for his family, they were forced to give him up. Tsume came to us in 2020 as a 5-year-old, who had been neutered only a few months prior to his relocation. Being neutered after sexual maturity has allowed him to become a greatly confident and dominant animal. He is fast becoming the face of 4 Corners Wolf, and an ambassador animal. He is a large beauty, very well adjusted, although does not pair up well with his own kind. He has extremely high prey drive and can be aggressive with other wolf dogs or animals. He is an escape artist, and highly intelligent and observant. He is very shy at first with men but can also be very social in the right setting. Tsume is a charmer but very opinionated on how things should be.
_______________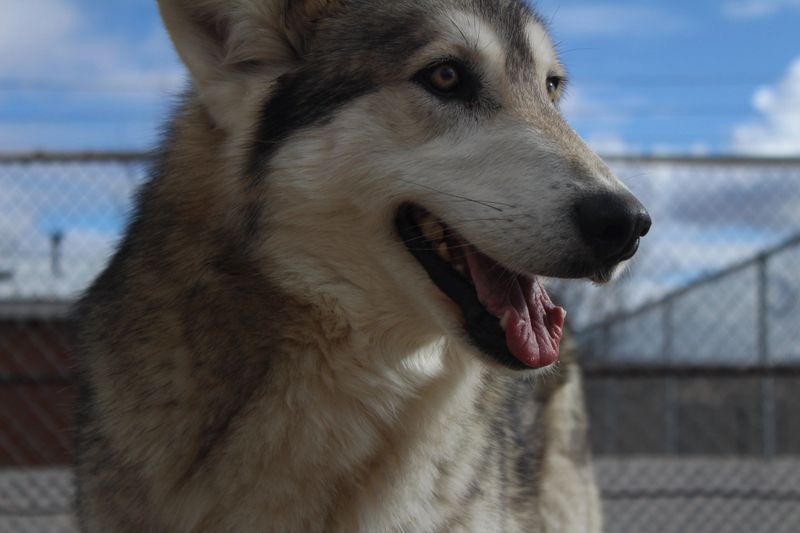 NAME: Sundance
NICKNAME: Sunny D
BORN: 2014
       Sundance was born in late 2014 and lived with his owner in Texas. Sunny's owner had other animals mostly husky/sled dog type animals. His owner was training the animals to pull sled and after his job was transferred to Wyoming, they were out practicing a lot. The first time Sundance escaped; he was tracked 8 miles before his owner caught up with him. The second time, Sundance and his owner were involved in a motor vehicle collision, and he escaped. However, because wolf dogs are illegal in Wyoming, once they finally caught up with Sundance, law enforcement forced his owner to get rid of him. They informed him that he needed immediate removal, or they would confiscate Sundance and euthanize him.
          Sundance came to live with us in December of 2016. He is a bright, sweet, and very well-adjusted animal. He is very social and friendly with everyone. He does not know a stranger. His personality is so bright and sunny. Sundance is very low content and could have been placed with a family, however his owner was more comfortable having him stay put with us. He still checks on him from time to time, and we send pictures so he can see his sweet face.
_______________ 
NAME: Siren
BORN: 2009

Siren was born in 2009 and lived in Southern California. We do not know that much about her past, up to 2015 when her owner brought her to the shelter and demanded they take her. Her owner stated he would kill her himself if they did not take her. So, she found herself in Orange County, which has always been known as a high kill shelter. On intake Siren had severe fly strike on both ears, they were bleeding and raw. The shelter made several attempts to treat her ears with topical ointments, but it was painful, and she resisted, and would snap at them. They had decided they would euthanize her if a rescue did not take her. So, we brought Miss Siren out to New Mexico and invited her into our pack. Her ears were treated by oral steroids and healed up very well with in about 3 weeks. She still struggles during the height of fly season, but we try to keep her covered and protected as she is more prone to additional damage. Siren is sweet, and is somewhat of a drama queen. We suspect she is a no low wolf dog but have never had her DNA done. Regardless, we love and care about her and do our best to keep her content.
_______________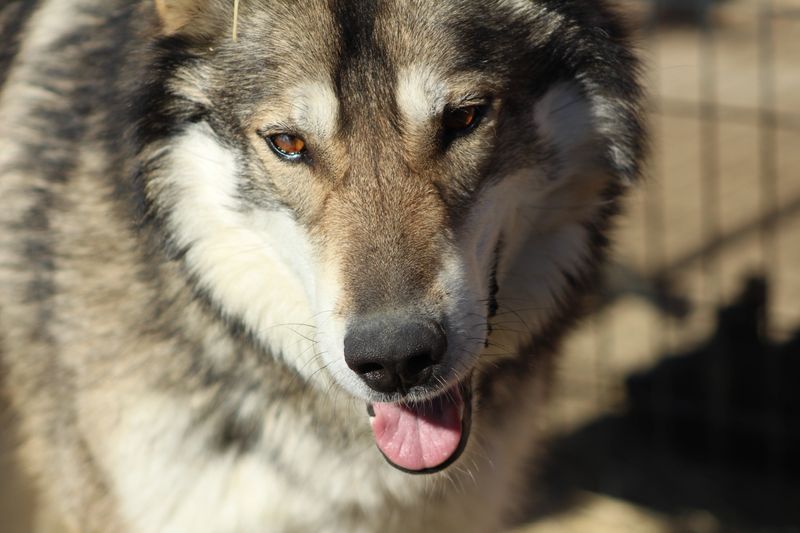 NAME: Socrates
BORN: 2017
Socrates was born in 2017 and was purchased by a family who wanted a wolf dog. As Socrates grew in the first year, they became overwhelmed with his size and surrendered him to a husky rescue in California in 2018. The rescue recognized that he was not just a husky but had wolf dog features and reached out interested in placing him with a sanctuary with the option that he could be used as an ambassador animal. Socrates is a very social, and sweet animal. He has a boisterous personality and loves to run, jump, and play! He is large, but very friendly and extremely outgoing. We consider him one of several ambassador animals that can be utilized in our growing educational program.
_______________
NAME: Lana
BORN: 2017
Lana was born in early 2017. She was surrendered to a shelter in Arizona and had been placed with a foster who had considered keeping her. She was very fearful of people and unsocial from day one. We do not know anything about the first few months of her life, but after an accidental fear bite, her foster did not feel comfortable with her around their children. Lana came to us at the age of 5 months. They suspected that she may be a wolf dog, so they reached out to find her sanctuary. Lana had DNA done and is only 28% wolf, and she is on the smaller side, however she has never had the desire to connect with people. She is a truly feral animal, she is good with her companion, but has become female aggressive with other pack members. She is cautiously curious about her 2-legged pack members and will sneak up behind you to jump and push on you. She is gone before realizing what she is up to. She is not people aggressive and is very playful but only on her terms.
_______________
NAME: Akela
BORN: 2017
Akela was born in 2017 and was purchased by someone who had intentions of breeding. Her companion mate escaped, and was killed before she was old enough to breed. Her owner was neglectful, abusive, and completely unattentive of her needs. She came to us in January 2020 after law enforcement became involved. She is extremely sweet, and a very fragile animal. She is very submissive when brought into small containment, but loose in her enclosure she is completely disconnected and unapproachable. She was DNA'd at 71.5% wolf and is a nervous natured animal. Animals like Akela are not pets, and she prefers to be left alone with her companion. She only desires privacy and a safe place to call her own. Our goal with Akela is to provide vet care, nutritious food and water while allowing her the space and freedom to be wild and only connected with her own kind. She is so sweet and shy, and when no one is watching she becomes flirtatious and playful. This lets us know that even while she is disconnected from people she is connected to her pack.
_______________
NAME: Ebony
NICKNAME: Ebi
BORN: Unknown
Ebony came to our sanctuary in May 2020. Her original owner had passed away, and his son needed to find placemat for her as she did not get along with their other animals. We estimate Ebony's year of birth to be around 2013. Ebi is shy, but curious, and will come to investigate her 2-legged pack members but chooses to stay just out of reach. She loves to sunbath and hang out with her companion Jax. She sings some beautiful songs from atop her shelter and has definitely joined the pack.
_______________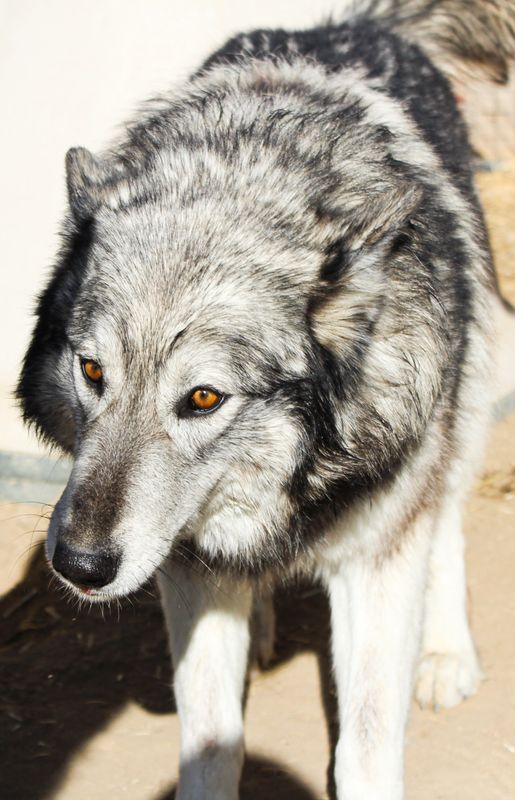 NAME: Willow
BORN: 2017
Willow was born in August of 2017. She was sold by a disreputable breeder, to a New Mexico couple as a 75% Timber Wolf / 25% Shepherd. However, she is clearly low content. Willows family struggled with her destructive nature. They were unprepared for her digging and climbing and were unable to keep her contained due to her high energy and high prey drive. It was not long before neighbors became upset over her escapes, and they had started making threats that they would kill her. Her owners became overwhelmed with the situation and relinquished her to a man who vowed to find placement for her. He took Willow in and kept her chained up to try and control her and prevent more escapes. The situation became desperate, and her new owner was running out of options. His last option was to surrender her to a shelter. That is when we received a request for help. If Willow had ended up in the shelter, she would have been euthanized. Willow is sweet and social; she has an overwhelmingly amount of energy. She has issues with nervousness and anxiety but loves her companion who calms her and keeps her entertained. She loves hugs, scratches and is an avid digger. Willow continues to be destructive and loves to dig but that is fine with us. We are vey happy she is a part of our pack.
_________________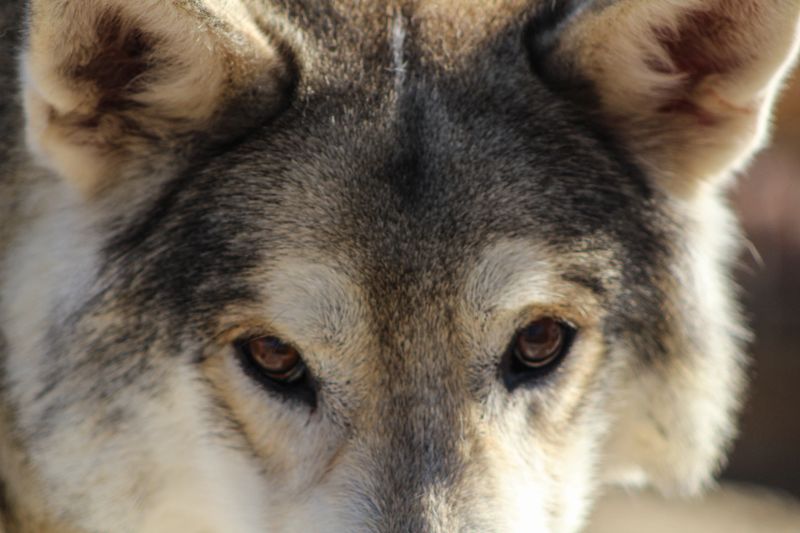 NAME: Gandolph
BORN: 2014
Gandolph was born in 2014 and was picked up running at large in Fresno, CA which is an illegal area for wolf dogs. He had escaped his containment and had a run in with animal control. He was not given back to is owner due to his breed. The shelter sent out for his DNA and it came back with wolf markers. Gandolph came to live with our pack in 2017 and has been a companion for Freyja. You could see the stars in their eyes when they met, and they were instantly a perfect match. We had DNA done on Gandolph as well he came in just under 40% content. Gandolph is very shy when he first meets you. He takes some time getting to know and trust, but once he does, he is a very gentle and a sweet boy. He has an incredibly quiet, and gentle energy.
_______________
NAME: Onyx
BORN: 2018
Onyx was born in April 2018 to a breeder in Arkansas. The gentlemen relinquished him to our sanctuary after he developed health issues and could no longer take care of him animals. Onyx was only 5 months when he arrived and is very shy. He trusts us but will not allow handling. While we have tried to work with him, he remains aloof. He has his own set of rules and will push his nose hard against your legs and will scent rub on you, however you are not allowed to touch more than the nose. When he arrived, he and Lana fell head over heels in love, and he became very protective of her. They are highly active and love to play with each other, making them the perfect companions. 
_______________
NAME: Mojo
BORN: 2004
Mojo is our incredibly special girl. Mojo was born in June 2004. Mojo had a mama that loved her fiercely but was forced to give her up due to deteriorating health. Mojo has been sexed and is a girl, she even lays the occasional egg. Mojo is a Scarlet Macaw, and she has some of her own health issues. She has balance problems and is a fall risk. She fell when she was younger and damaged a rotator cuff that could not be surgically repaired. Mojo is unable to fly due to this injury. She was diagnosed as having a thyroid problem but that has since been debunked. Mojo struggles with feather growth. She has adjusted well to her new home in sanctuary and has a loving personality. She loves attention and we love giving it to her.