BRING US HOME CAMPAIGN 2022



As most of you know, in 2020 we secured a new property in Sandoval County, NM with over 80 acres to build a state of the art sanctuary for our pack. (Pictured above)  
This property has lush forest and is very private, just bordering the Santa Fe National Forest.   We are working tirelessly toward infrastructure improvements.  We must do forest mitigation, grading, create roads for access and so much more. We will be needing buildings for secure bear proof food storage as well as a building for food prep. Housing will also be a must to allow us the ability to keep the animals and property safely monitored 24/7. We will be using most of the funds for fencing and habitats for the residence to keep them safe and secure.
 We are pushing for $120,000.00 in 2022 to assist us with the start up for these improvements and many more.
 We need your help today to secure these funds and make this transition soon. We are currently full and with this move it will give us the ability to do so much more for our current pack as well as many more! Your support is key.
Pictured below is a look at the design of the enclosures that will be built.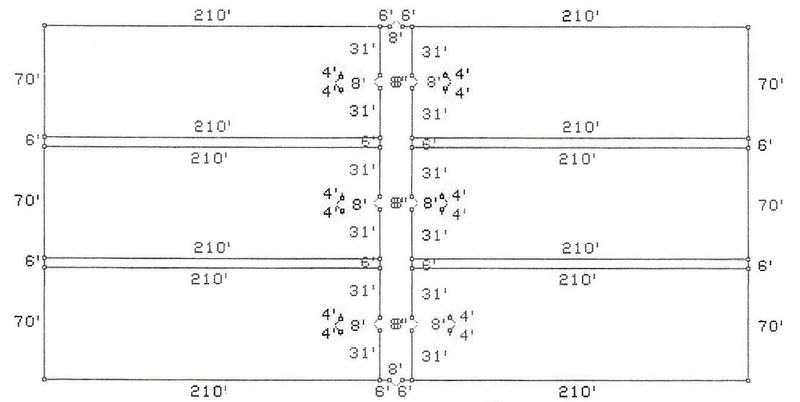 What does this move mean for our rescues?
       With this move, our rescues will have so much more space and privacy on property that is very secluded and is heavily treed. For our beautiful animals this move means everything, from cool mountain air in the summer, to deep snow in the winter. This is the type of land they need to thrive. Here they will flourish in elevations just over 7600 feet. They will have the privacy and space to really decompress and live feeling totally at home and very secure.
What does this move mean for our donors and supporters?
       Upon completion, we will become a facility of caregivers and educators. Our future includes - dining in the great outdoors, camping, moonlight walks, a meditation garden, winter sleigh rides, summer hayrides, school field trips, day trips, and more as our mission expands into education. We will be working towards a full volunteer staff to help care for the pack. We are hoping to make some connections in the surrounding communities and welcome community involvement.
THANK YOU TO EVERYONE WHO HAS DONATED IN THE PAST & TO EVERYONE WHO CONTINUES TO DONATE.